Nature Ice
™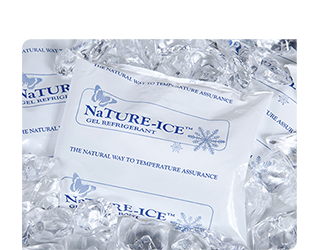 Non-toxic - Food Safe.
Tough - 4 mil film resists punctures and tears.
Phase changes at 0°C / +32°F
Nature Ice™ gel refrigerants can be frozen or refrigerated in a residential freezer and are intended for maintaining cold temperatures during storage or transport of perishables. They can be stored safely either frozen, refrigerated or at room temperature and can also be used as a buffer to prevent freezing.
Nature Ice™ can be used numerous times without any significant loss in thermal performace.
Nature Ice™ is 100% inert and safe for the environment. It's water-soluble and non-toxic to dispose of leaving no harmful chemicals behind.
*Other phase change formulations available.
For SDS (MSDS) forms, see our Services page
©1994-2022 Thermal Shield
®
All Rights Reserved |
Legal Notice
|
Privacy Policy
Other Thermal Shield websites:

www.Nature-Pack.com
|
www.frontierpaperco.com
|
www.passiveinsulation.com
Patent/Trademark Statement: Thermal Shield®, Xpander Pak®, Nature Ice™, Growler Pak®, Nature-Pack™, BioMailer®, BioCooler™, Pallet Shield® & Cargo Shield® are federally registered trademarks. All other trademarks, copyrights or logos sited herein are the property of Thermal Shield® products. U.S. Patents 5,820,268 / 6,007,467 / 6,080,096 / 7,021,524 / 7,140,773 with additional patents pending.