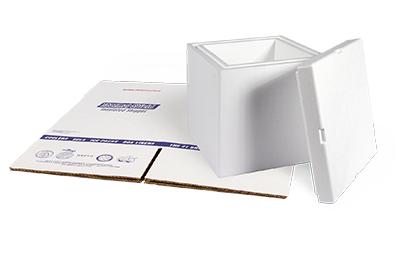 Molded EPS Foam
Lightweight shippers are ideal for the safe storage and transport of frozen foods, pharmaceuticals and other temperature sensitive items.
Excellent thermal protection when shipping products UPS, Air Freight, Parcel Post or other services.
For shipments of 24 hrs. or less - Thin wall: .75" & 1"
For shipments of 48 hrs. or more - Thick wall: 1.75, 2 & 2.5"
Custome printing available for outer box and cooler lid.
ISTA 7D thermal testing and technical support is available. *Minimums will apply
©1994-2022 Thermal Shield
®
All Rights Reserved |
Legal Notice
|
Privacy Policy
Other Thermal Shield websites:

www.Nature-Pack.com
|
www.frontierpaperco.com
|
www.passiveinsulation.com
Patent/Trademark Statement: Thermal Shield®, Xpander Pak®, Nature Ice™, Growler Pak®, Nature-Pack™, BioMailer®, BioCooler™, Pallet Shield® & Cargo Shield® are federally registered trademarks. All other trademarks, copyrights or logos sited herein are the property of Thermal Shield® products. U.S. Patents 5,820,268 / 6,007,467 / 6,080,096 / 7,021,524 / 7,140,773 with additional patents pending.