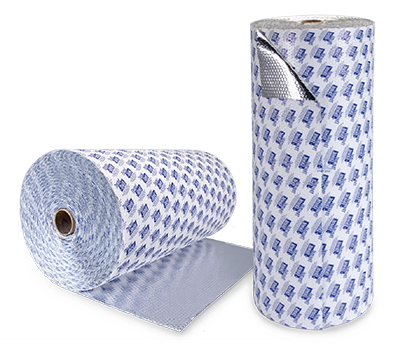 Roll Stock
Roll Stock is particularly useful when wrapping odd sized pallets and irregularly shaped products.
Great for lining large oversize boxes, container walls and metal buildings.
Easy to use, safe and economical.
Thermal Shield® bulk Roll Stock is designed to protect temperature-sensitive products from heat and cold, both on the ground and in the air.
For SDS (MSDS) forms: See our Services Page
Size
Sq. Ft. /
Roll
Priced Per Roll
Wt. (Lb) /
Roll
1 Roll
5 Rolls
10 Rolls
T50B482PW
48" x 250'
1000
$325
$300
$275
33
T50B602PW
60" x 250'
1250
$475
$440
$415
49
T50B722PW
72" x 250'
1500
$575
$525
$500
54
T50B962PW
96" x 250'
2000
$775
$720
$670
75
T50B485PW
48" x 500'
2000
$675
$625
$580
70
br>

*Call for pricing on custom ordering


Foil is used in many ways to maintain and preserve freshness and act as a barrier. But its main use is to reflect and reduce energy consumption. Thermal Shield® is built to fight the three basic modes of heat transfer.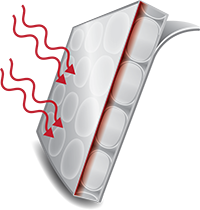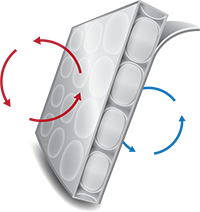 CONDUCTIVE
By touching two opposing surfaces together, heat can move from one source to another. The more dense the item the more conductive it will be.
RADIANT
Our foil reflects up to 97% of the surface energy. The combination of 3 specific co-extruded layers stands up to the toughest challenges.
CONVECTIVE
The still air trapped in our barrier-bubble makes it difficult for opposing temperatures to penetrate.

©1994-2022 Thermal Shield
®
All Rights Reserved |
Legal Notice
|
Privacy Policy
Other Thermal Shield websites:

www.Nature-Pack.com
|
www.frontierpaperco.com
|
www.passiveinsulation.com
Patent/Trademark Statement: Thermal Shield®, Xpander Pak®, Nature Ice™, Growler Pak®, Nature-Pack™, BioMailer®, BioCooler™, Pallet Shield® & Cargo Shield® are federally registered trademarks. All other trademarks, copyrights or logos sited herein are the property of Thermal Shield® products. U.S. Patents 5,820,268 / 6,007,467 / 6,080,096 / 7,021,524 / 7,140,773 with additional patents pending.